Unique stories
Dare to challenge yourself. Reach the limits of your creativity and stretch your life's philosophy into the bright and irresistible finishing touch to your style.
Our jewels will portray your unique story.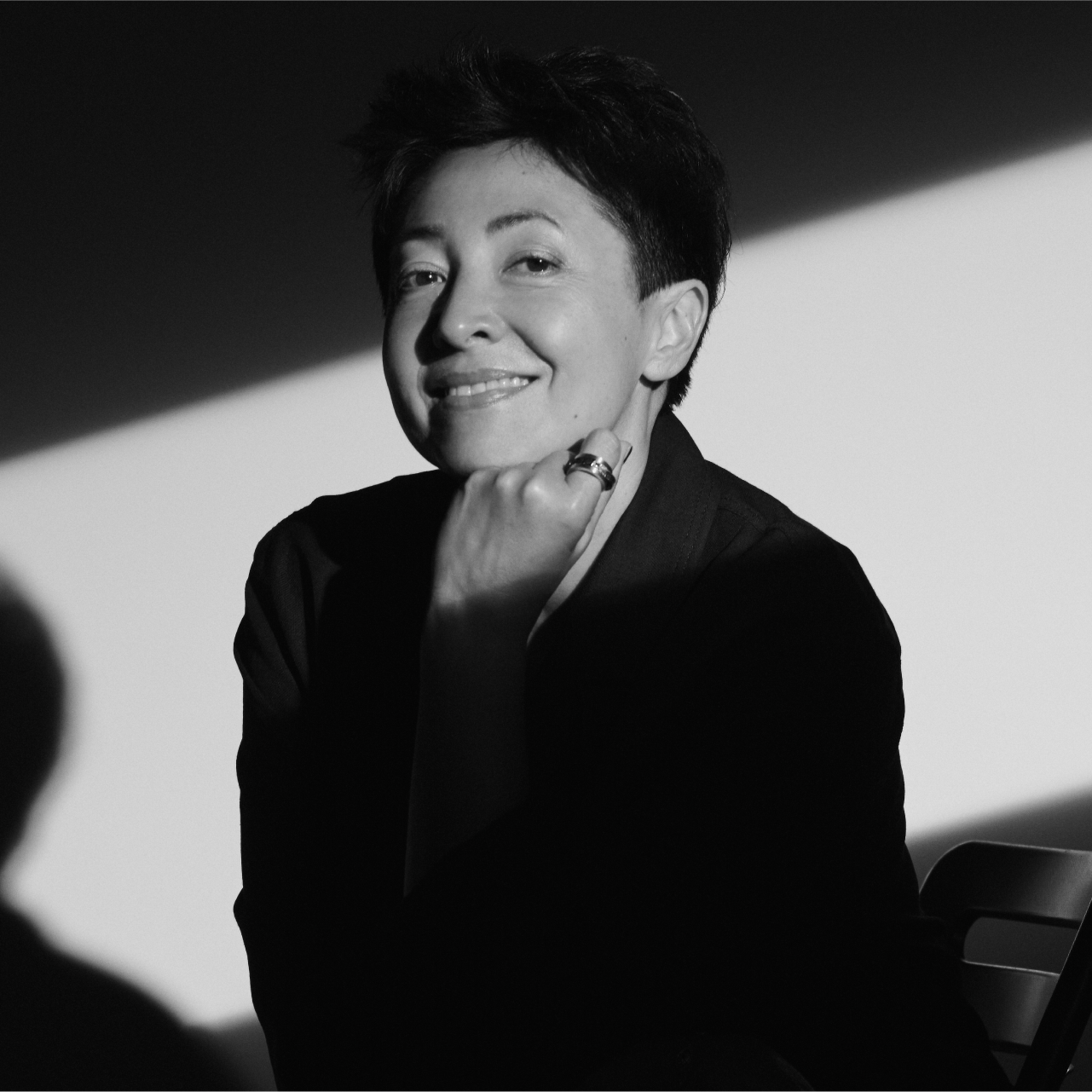 Jewellery always marks important moments of my life. "I was gifted a cushion-shaped diamond for my birthday from my husband and children and realised to have deserved a unique piece of jewellery. When I saw the wedding rings and meteorite jewellery created by Silvijus and his team, and found out that they were able to custom made it for me, I didn't ponder for too long. You meet someone for the first time, and it seems like you've known them for a hundred years. I trusted Silvijus and, needless to say, I was delighted with the result. I wear my ring not only on special occasions, but every day because it has become a part of me. Probably from wearing it a lot, a section of the ring has oxidised during summer. I could have it polished and refreshed, but the contrast is so beautiful: the raw oxidised meteorite and its diamond. I don't want to change this natural feature, because it is my ring, alive and breathing.
As a child, I remember searching for the perfect flower in the meadow and twisting and weaving it into the shape of a ring. I would wear it and feel like the happiest bride in the world. And my dream came true – as I was too young to get married, my father donated me my first real emerald and diamond ring. Now, as I admire the diamond between two Saturn rings glowing a ray of light, I remember my joyful childhood. It makes me feel hearty and amiable."
Elena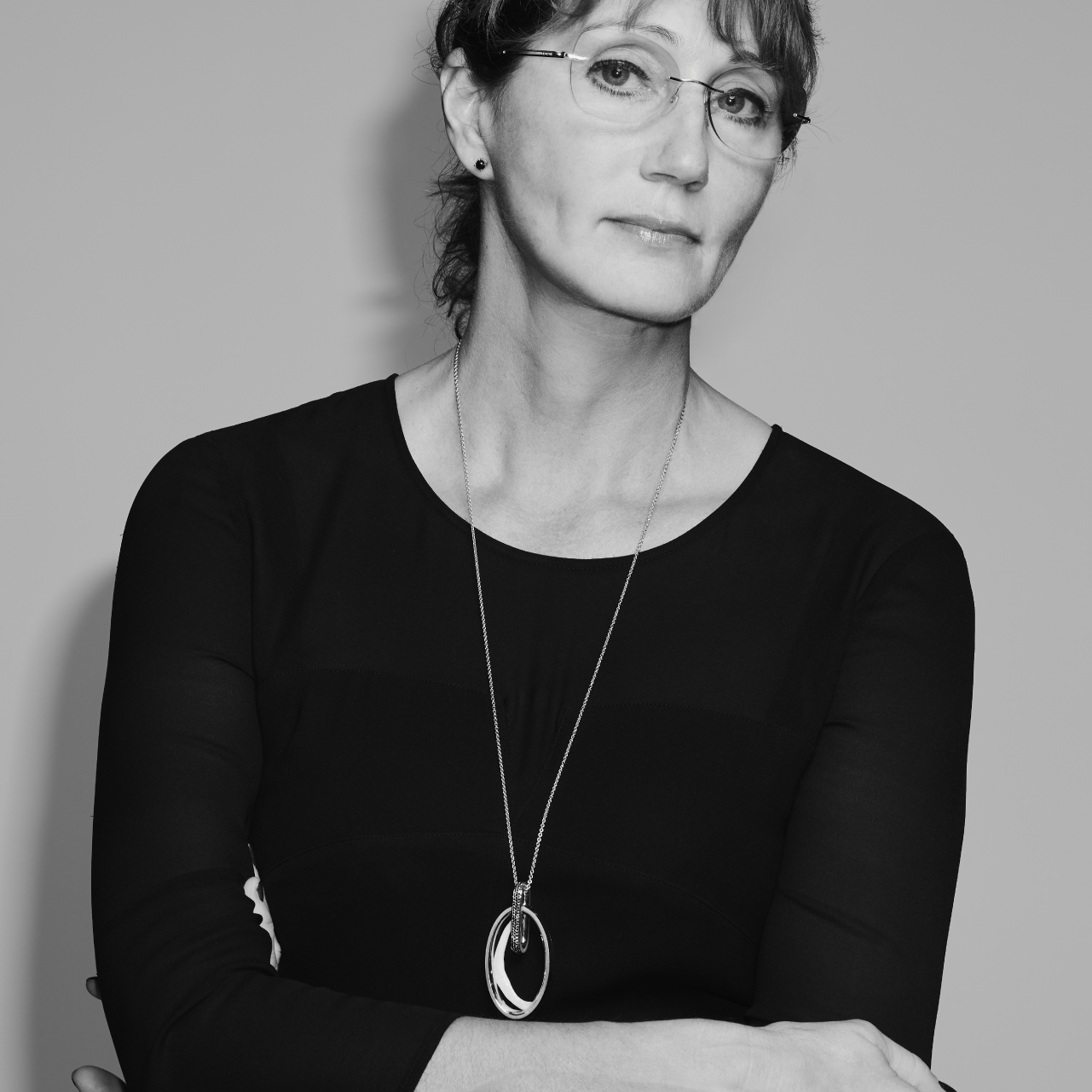 Often, the story of a jewellery masterpiece begins with the skilful hands of Silvijus and his team of jewellers. However, this time their mission was to interpret a story born in the Earth's farthest corner and connect jewellery and rituals. As well as having been gifted two talismans by her husband Vytautas, Valentina believes that not only higher powers can protect people. "After a hunt, local Zimbabweans brought Vytautas two bones from a leopard he had hunted earlier. These were rudimentary, not joined to any muscular structure and according to the local inhabitants, would protect against evil and be auspicious. These pendants are like a photograph capturing a shared experience, a symbol of the journey we have walked together, a token for protecting one another," says Valentina, who believes that jewellery recharges the same way batteries do. Even without the adornment of precious metals and gems, it is enough to hold them to remember the experiences and emotions we have lived throughout, and dispensing more strength and energy to continue our life journey.
Valentina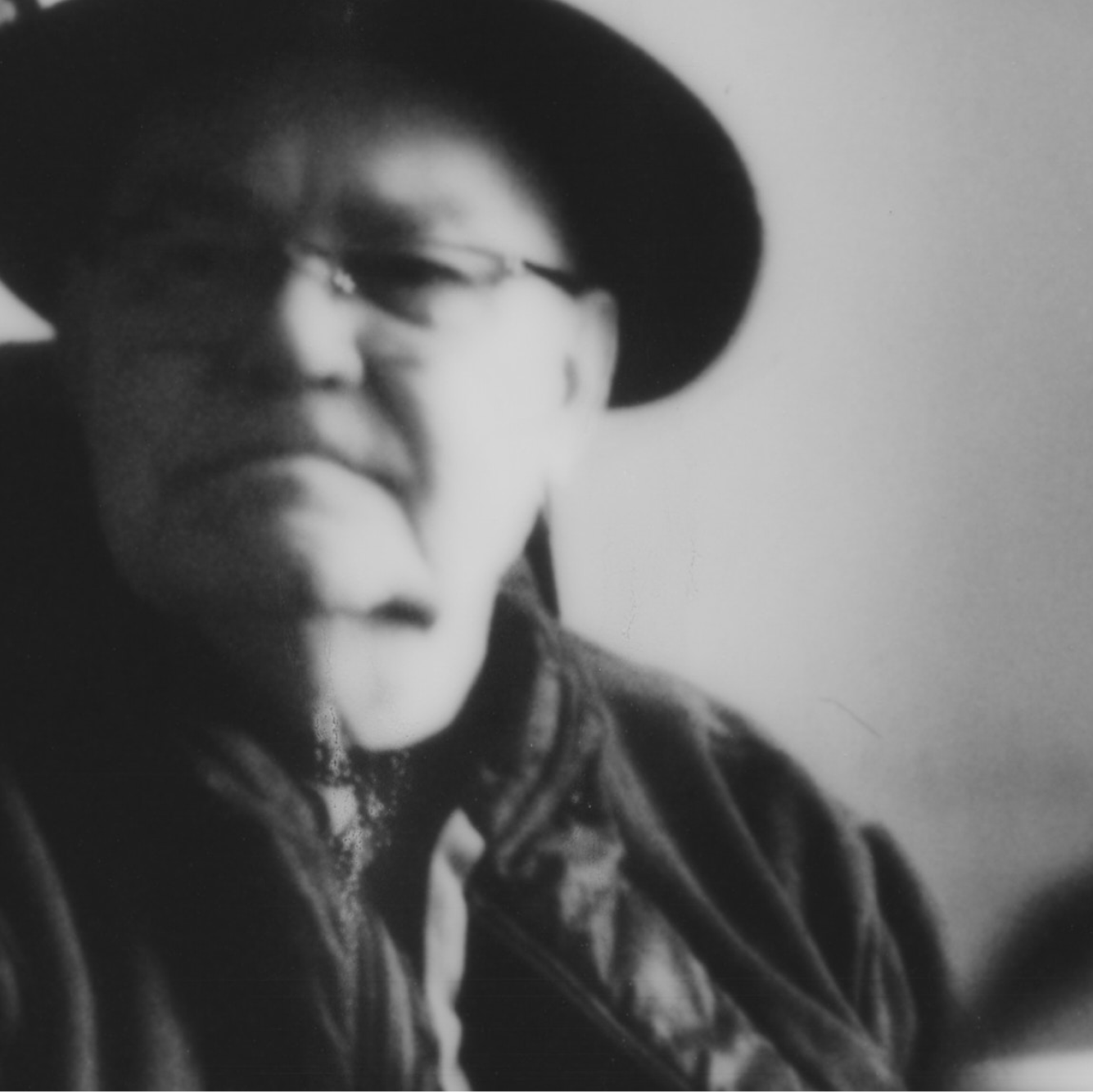 Photographer Antanas Sutkus and Silvijus Martinėlis are like-minded people in image and form, chatting curiously while appreciating each other's creations. They have the innate ability to capture time in light years or split seconds, and talk though intuition - not words.
Antanas's ring evokes a camera in which Sylvius tried to match its brightness with the depth of gold, the weight of Seymchan meteorite, and the sharpness of black diamonds. The latter reflects the attention with which the photographer's eyes observe our black-and-white world. Antanas's fascinating personality have allowed him to form emotional connections with his surrounding and essentially to dissolve into. Like the ring, his photos are born from intuition revealing his independence.
Antanas Sutkus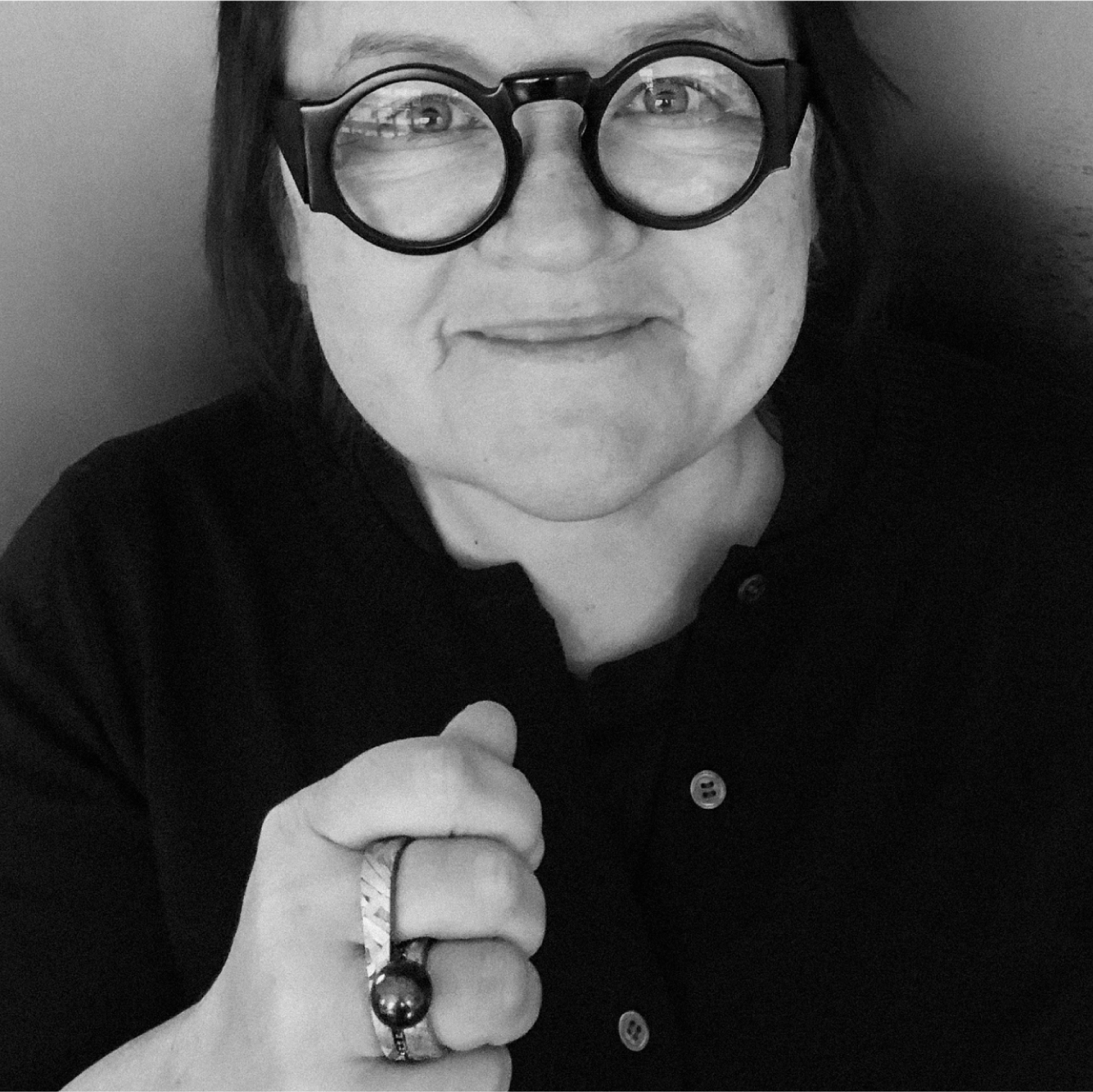 How much jewellery is too much jewellery for a lady to own? To begin with, the question is wrongly phrased. Especially if it's a ring born from your imagination and holding two fingers with an energizing gold alloy, wrapped in meteorite, and a subtle band of black diamonds. And the cherry on top? Working alongside Silvijus, a pearl found her perfect place and meaning – representing the female's nature. "His intuition and the experimenting talent. Immense gratitude coming your way, you make my dreams come true" – says Dalia Ibelhaubtaitė, who is lucky enough to relish a collection of Silvijus's jewels.
Dalia Ibelhauptaitė
This cuff bracelet is a bold statement of what matters most to Linas: attachment, will, and pure steadiness. Linas actively took part in the creative vision, giving a detailed look into the synergy of black titanium, the dark and vigorous Seymchan meteorite, and the black diamond brilliance.
"I get connected to the objects I like. Silvijus thought of it all: from my favourite dark hues to the choice of materials and his creative twist. Whenever I glance at this art piece, I think to myself - he did it masterfully. I trust Martinėlis and his magical world of handcrafted jewellery", - says Linas.
Linas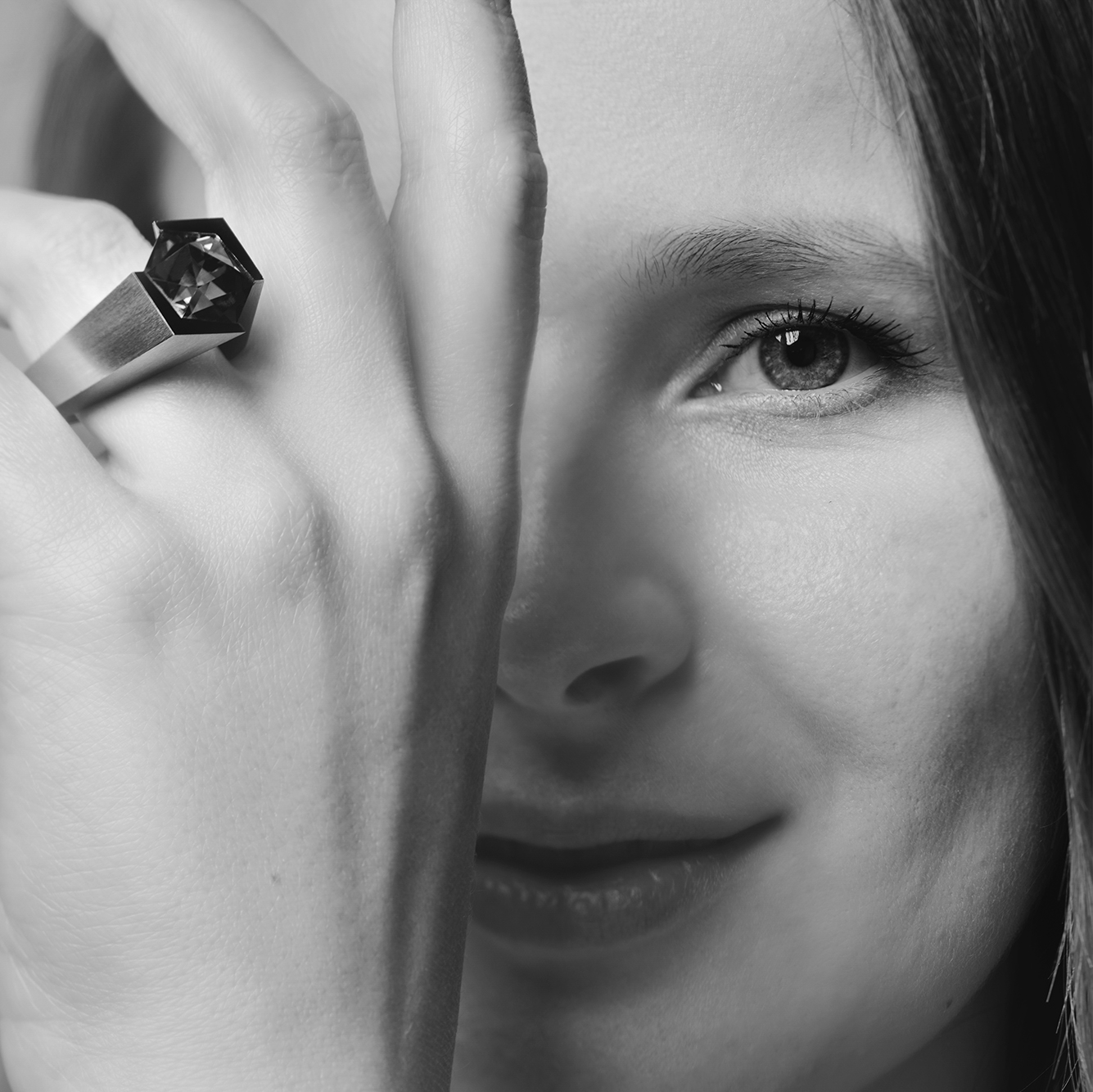 A visionary ring - manifesting uniqueness while frozen in motion. A miniature sculpture, changing its shape with every new perspective. The depths of the orb are revealed and hidden again while whispering a story of love and friendship.
"It was love at first sight. The sharp contour and the striking stone simply cannot leave anyone indifferent. This ring has been handcrafted by Martinėlis & Co team in 2021, and I will be telling the story of it to my children and grandchildren."
Rūta Zujė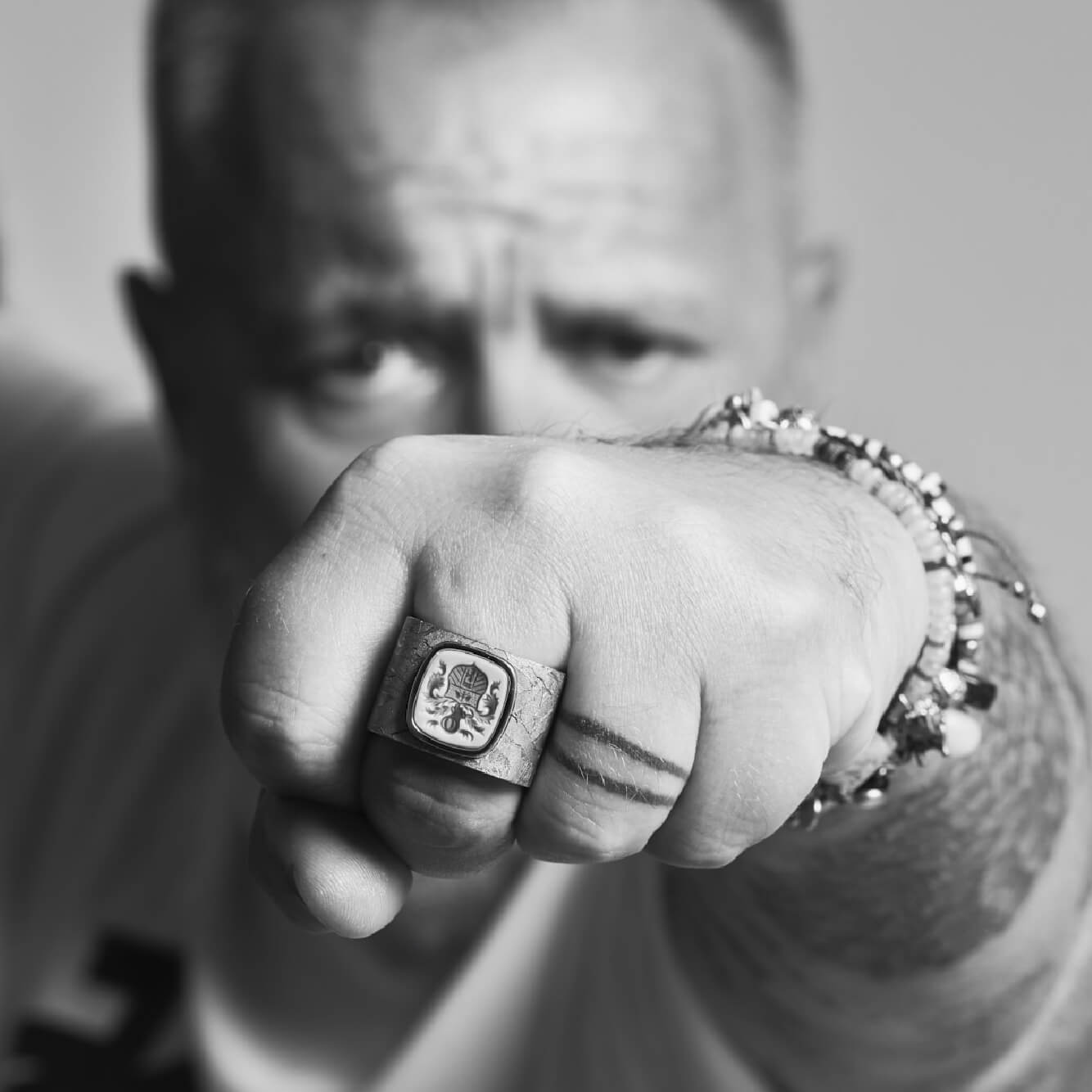 Lost in the waves of the Bali Sea and recreated in Vilnius by Martinėlis. Dating back three generations of a noble Austrian family, this signet ring continues its storytelling adventures through time. The family's coat of arms is preserved in the stone of truth, carved to enhance its pink and red tones and lined with a precious layer of rose gold.
"This ring is a breathtaking symbol of my rebellious past and present, and a sincere friendship token with Silvijus' family." 
Marco Iuffmann-Ghezzi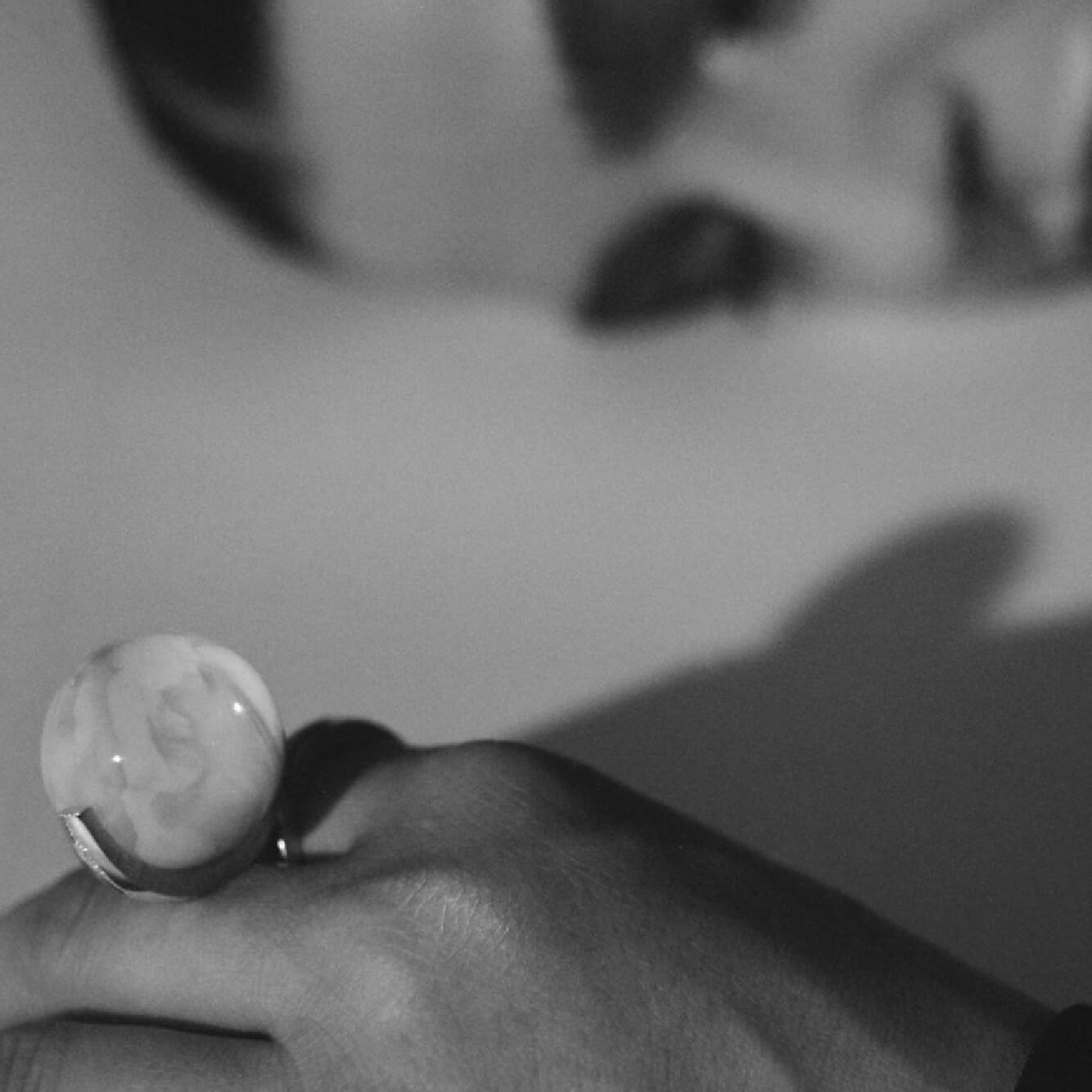 "I can't explain why I have always felt a strong bond with amber. Jewellery is an important part of my self-expression. I treasure the bond between jewels and the Universe's chronicle; rings embrace the connection between the Sun and the Moon. They represent what I am called by others, and what I most think of myself".
Asmik Grigorian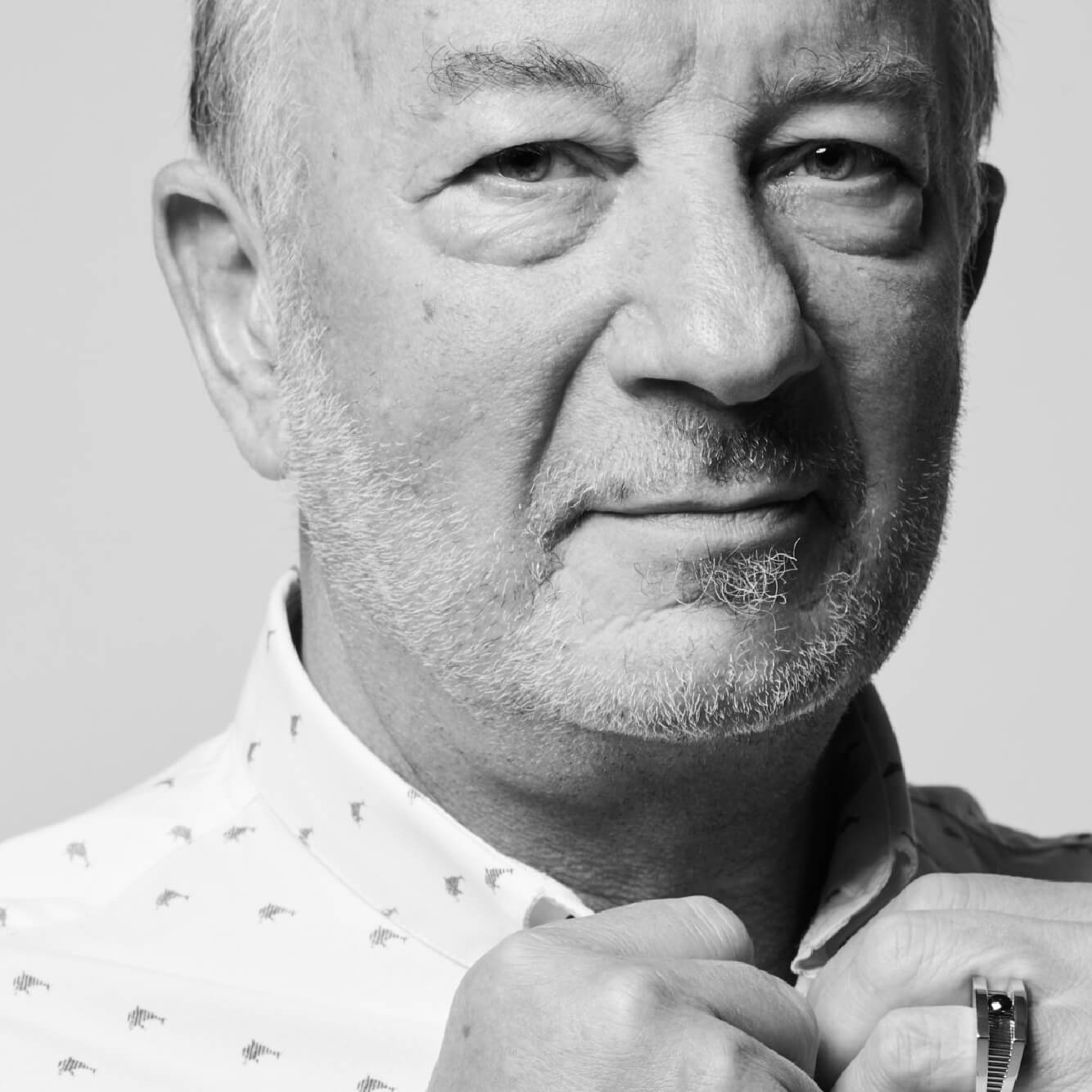 The Art Deco miniature captures monumentality through its perfect balance. An eye-catching black diamond has found a different, more perfect shape, which sculpturally reveals its dark and mysterious nature. Renewed to a new existence, its bold design amplifies the owner's determination, firmness, will and single-mindedness.
"I have never seen a similar object made by a jeweller anywhere. It was love at first sight, becoming part of my image. I never take it off, whatever the occasion is - important meetings, practicing sports or mushrooming."
Jokūbas Fišas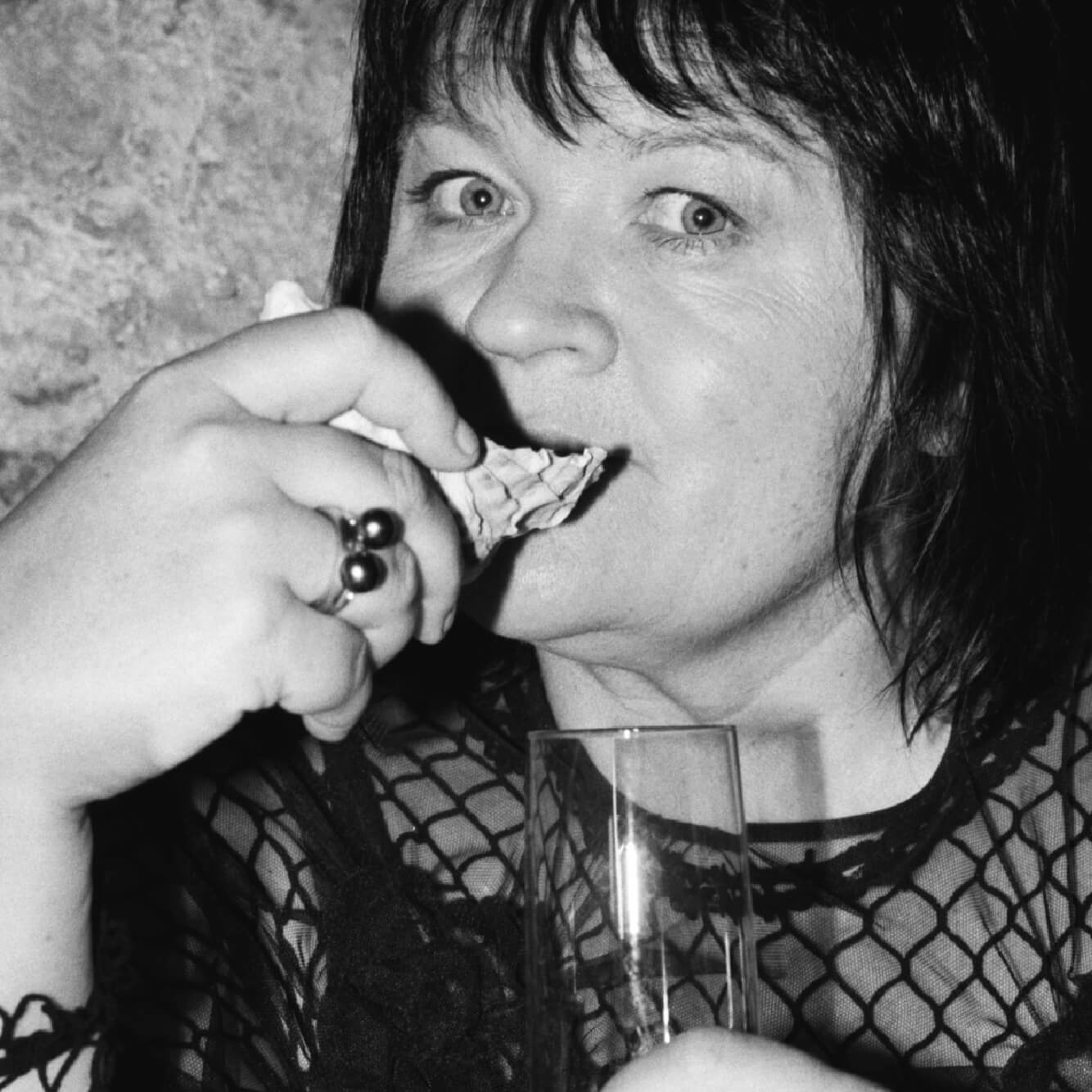 Four massive black lipped pearls that found each other in the oceans. Three precious layers connecting different countries and times into three rings: three family heirloom black Tahitian pearls, and a royal-sized moonlike black lipped pearl set with six diamond crater-like eyes that have awaited its mistress for a decade.
"I've always liked big jewels, but I've never had Real Rings, because my jewellery has always been theatrical and fake. Artist Silvijus Martinėlis changed my approach to jewellery and precious metals; he made me realize that it is possible to create an object just right for every person, making them happy and proud wearers. The rings created by Silvijus Martinėlis have become my mascot not only during the premiere of the film 'Rocketman' directed by my beloved husband Dexter Fletcher. They are theatrical, cool, very sexy, travel with me around the world and continue to be storytellers."
Dalia Ibelhauptaitė
Photographer Visvaldas Morkevičius
At first glance, the very different and dynamic portraits of photographer Visvaldas Morkevičius are combined into one album, following the theme of individuality. During perceptive photo sessions, one recognizes oneself – unseen but always grasped – through a play of lights and shadows, colours and movements.
"Cognition is one of life's greatest gifts, with which we colour a patch of new experiences on the map of the world surrounding us. Just as nature wimps without sunlight, so the smile fades in the eyes without it; thus, we want to explore and open up without being trapped into a single standpoint.
When taking a portrait, various opportunities flourish to capture the person. It's impossible to be objective, hence we can often see the photographer's reflection in these portraits. I try to savour the situation with the participants, follow their rhythm, improvise and experiment together, ultimately turning the camera into a device recording harmony and jazz up.